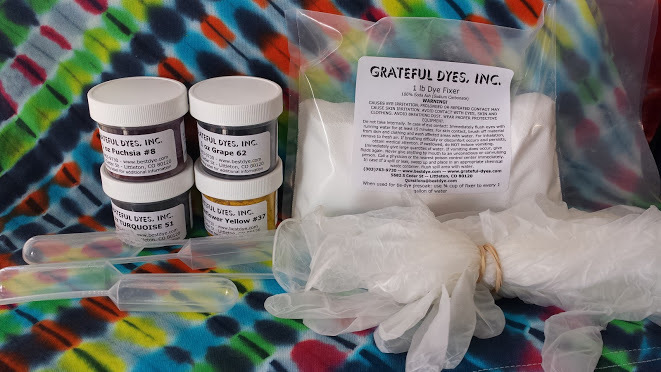 Tie Dye Kit in a Bag
Tie Dye Kit in a Bag
9
Average rating:

(9)
LIMIT 2
Build your own tie dye kit! Choose your own colors!
**IMPORTANT: If you have a large project it is not efficient to order tie dye kits. Please contact us at 1-800-697-1566 and we will assist you in getting the perfect amount of supplies for your project**
LIMIT 2 KITS
Kit includes:
14"x16" Cotton Shopping bag- to be dyed and reused again and again!
4- 1 oz. Jars Reactive dye powder. Colors are:
Fuchsia #8
Lemon Yellow #38
Turquoise #51A
True Purple #72
(You can choose your own combination of 4 colors if you would like - just leave us a note in the comments section on your order!)
1- 1 lb. "Dye Fixer" (soda ash powder)
4- Pipettes
2oz Rubber Bands
Easy to use instructions.
Kits Created and Packaged in the USA.
Professional Quality Beginning Tie-Dye Kit!
Have you been disappointed with those "one step" tie dye kits you bought in a retail store?
Our dyes and kits give FAR SUPERIOR results to "one step" dye kits.
High Quality Reactive dyes are the worlds Best Dyes for Cotton, linen, rayon, hemp, or other plant based fabrics.
This kit comes with Easy to Follow Instructions and has enough dye and dye fixer to tie dye a whole bunch of projects! Plus it's packaged in a Reusable Cotton Shopping bag that we want you to Tie-Dye and use again and again.
Kit comes packaged in the bag- we call it "Tie Dye Kit in a Bag"- The first photo shows what comes in the kit. The tie dyed backdrop is just for the photo and not included.
FAQ's:
Q. "Why don't you have pre-measured squeeze bottles in your kit?
A. We don't have pre-measured bottles in our kit because we teach you how to mix different colors using different dye concentrations. For example with fuchsia in the kit, you can make a strong red shade, or a nice baby pink, it's all in how you mix the dye. We give you pipettes (big eye dropper tools) to use to apply the dye to the fabric. These are the tools we use for small scale projects that you will be making with these kits. Pipettes are much easier to use and far more effective at applying dye.
Q. "Why don't you say how many T-shirts you can make with this kit?"
A. In reality, this kit contains FAR MORE dye and the fixer chemical (soda ash) you need than other kits available at retail stores. In our estimation at bright shades, this kit will make about 16 t-shirts. Other kits we've seen say they have "1/3 pound of soda ash", and can make "up to 15 projects" Our kit contains a full pound of soda ash - 3x's more than other kits, but since we are tie dye experts, we KNOW that there is NO WAY you can make 15 t-shirts with their 1/3 lb. of soda ash. Since we tell the truth in our advertising, we cant' compete with their outrageous claims. Just know, our kits contain MUCH more usable product than other similarly advertised kits.
Featured positive reviews:
Tie Dye Kit in a Bag

Best Dyes for Tie Dyes
06/27/2021
I've been ordering from Best Dye for over 20 years and they never disappoint. Friendly and helpful service. The web site is easy to navigate. Lots 0f beautiful colors to choose from (and they ate always adding more). I hosted tie dye parties for 50+ people for years and everyone loved the color choices. I've moved away from CO but still order from them. Shipping is fast and I've never had a problem with my order. The Tie Dye kit is perfect for me now that I'm not hosting parties and just enjoy dyeing for myself. I made a lot of face masks last summer! The fact you can customize the colors in the kit is fantastic and the perfect way to give dyeing a try. I can't recommend Best Dye enough! They are the BEST!
Tie Dye Kit in a Bag

Best Quality Dyes From A Great Guy!
06/08/2020
I've been buying dyes from Colorado Wholesale Dyes for 20 years (way back when his shop was out of Pirate Records). I've moved away from Denver and dont throw my annual tie dye parties anymore but I still love dyeing! The tie-dye kit in a bag is perfect for at home projects. You can mix colors to create more variety. My face mask project was wonderful and I still have enough product for two more dyeing sessions.
Make sure you call and ask questions because they are extremely helpful. Everything comes with full instructions. The website is great! Love the annual contest!
Tie Dye Kit in a Bag

Service
09/07/2021
1st time user of Colorado Dye Corp . Service was fast. I Emailed a question about mixing colors and received an answer almost immediately . We also ordered a big bag of dyable clothing and tapestries .. I thought the prices were great..quality seems good also. we have not tried the kit yet. Waiting for a rainy day project..Hope it all goes well..✌️
Tie Dye Kit in a Bag

Awesome Color!
01/19/2021
This is the second time I've ordered Grateful Dyes, and I doubled my order this time. They produce beautiful and vibrant colors, and the ability to make the strength of your own dye is great. Definitely recommend 👌 👍
Tie Dye Kit in a Bag

Best value with best ingredients!
06/28/2020
It's crazy that they sell it so cheap! I love this kit and will not hesitate to recommend to others (I've already done so!)