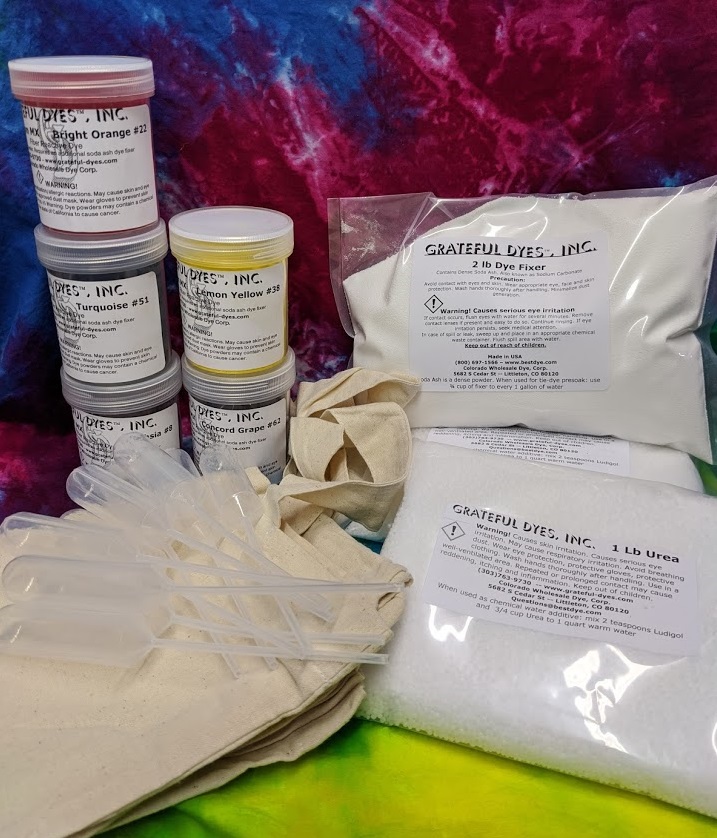 Advanced Tie Dye Kit

LIMIT 2
Choose your own colors!
Professional Quality Advanced Tie-Dye Kit!
Kit includes:
5- 2 oz. Jars Reactive dye powder. Colors are:
Fuchsia #8
Bright Orange #22
Lemon Yellow #38
Turquoise #51A
True Purple #72
(You can choose your own combination of 5 colors if you would like - just leave us a note in the comments section!)
2 lbs Dye Fixer
2 lbs Urea
10- Pipettes
4oz Rubber Bands
1 Reusable Cotton Bag
Easy to use instructions.
Kits Created and Packaged in the USA.
Have you been disappointed with those "one step" tie dye kits you bought in a retail store? Our dyes and kits give FAR SUPERIOR results to "one step" dye kits.
High Quality Reactive dyes are the worlds Best Dyes for Cotton, linen, rayon, hemp, or other plant based fabrics. This kit comes with Easy to Follow Instructions and has enough dye and dye fixer to tie dye a whole bunch of projects! Plus it's packaged in a Reusable Cotton Shopping bag that we want you to Tie-Dye and use again and again.
Kit comes packaged in the bag- we call it "Advanced Tie Dye Kit"
LIMIT 2 KITS